At The Resort sports are a way of life. Our residents like to stay healthy and in shape. There are many ways to do this, from tennis to shuffleboard to pickle ball to softball and more. Our many sports clubs are not just a way to stay fit but a way to connect to new friends. Many of the club members have found a sense of family in gathering for their sports. The comradery, competition and encouragement make these groups special. Just take a look at these residents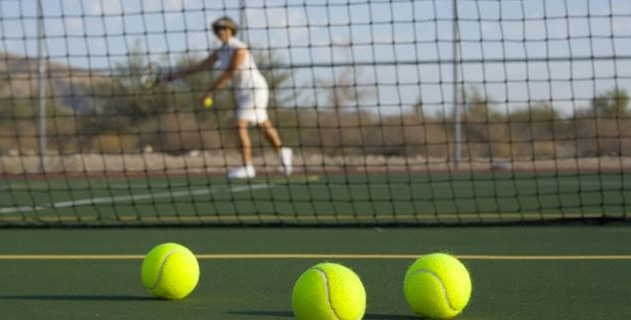 Thanks for checking out The Resort Tennis Club. We hope you take the time to explore, and check out all the benefits of visiting The Resort and participating in not only the Tennis Club activities, but in the vast array of things to do off the courts as well. Our park, located in the City of Mesa, is about 30 minutes from Phoenix International Airport and 15 minutes from Phoenix-Mesa Gateway airport.
Our park offers four, hard-surface (two lighted) courts, where we have Drop-In Tennis, Social Play, Player Development Programs, Ball Machines, Invitational and Club Tournaments, Club Mixers, and "Fun Days."
The Resort Tennis club has a membership of over 120 members, and provides players with the opportunity to participate at all skill levels, from "how do I hold a racket" to advanced, and our annual dues are a whopping $20. The club provides professional coaching at all levels as well as loaner rackets to get you started.
Our goal at The Resort Tennis Club, is to provide an environment that fosters fun for all our members. While some people play tennis just for exercise and the social aspect of the game, others prefer to add a bit of competition and strive to hone their skills and advance their level of play. Our tennis club participates in the 55+ East Valley Seniors Tennis League, the largest senior tennis league (3500+ players) in the country. This league offers play from the beginner level through to the advanced 4.0+ levels, and everything in between. There are sixteen other Mesa area resorts that participate in this league, and weekly matches begin in early November and run through the first week in March.
Our Club is run entirely by volunteers who are the backbone of our success. We do everything from maintain our equipment, clean our courts, manage tournaments, score-keep, captain teams, and administer our clubs' activities through our Executive Committee. On behalf of our club, and our Executive Committee, I would like to invite you to check us out.  If you are looking for a warm spot in the sun and some great tennis activities, we hope you will join us at The Resort on your next trip south. If you want more information, please contact us at
theresorttennisclub@gmail.com