THE RESORT RV PARK
"The small park with a big heart."
55+ RV RESORT COMMUNITY
Interested in staying at The Resort RV Park?
Click "Make Reservation" Button to fill out a reservation request.
FREE INTERNET AND HD CABLE TV INCLUDED IN RENT!
1101 S Ellsworth Rd, Mesa, AZ 85208
(480) 986-8404 | 1-866-386-1101
What does it mean to be a small park with a big heart?
The Resort has 792 spaces, which we think is just about the perfect size. It's big enough to have an endless stream of activities all season long, and all the amenities of the giant corporate parks, without the big crowds. Plus, we have a sister park, Silveridge, a few blocks away, and residents invite each other to their events and facilities.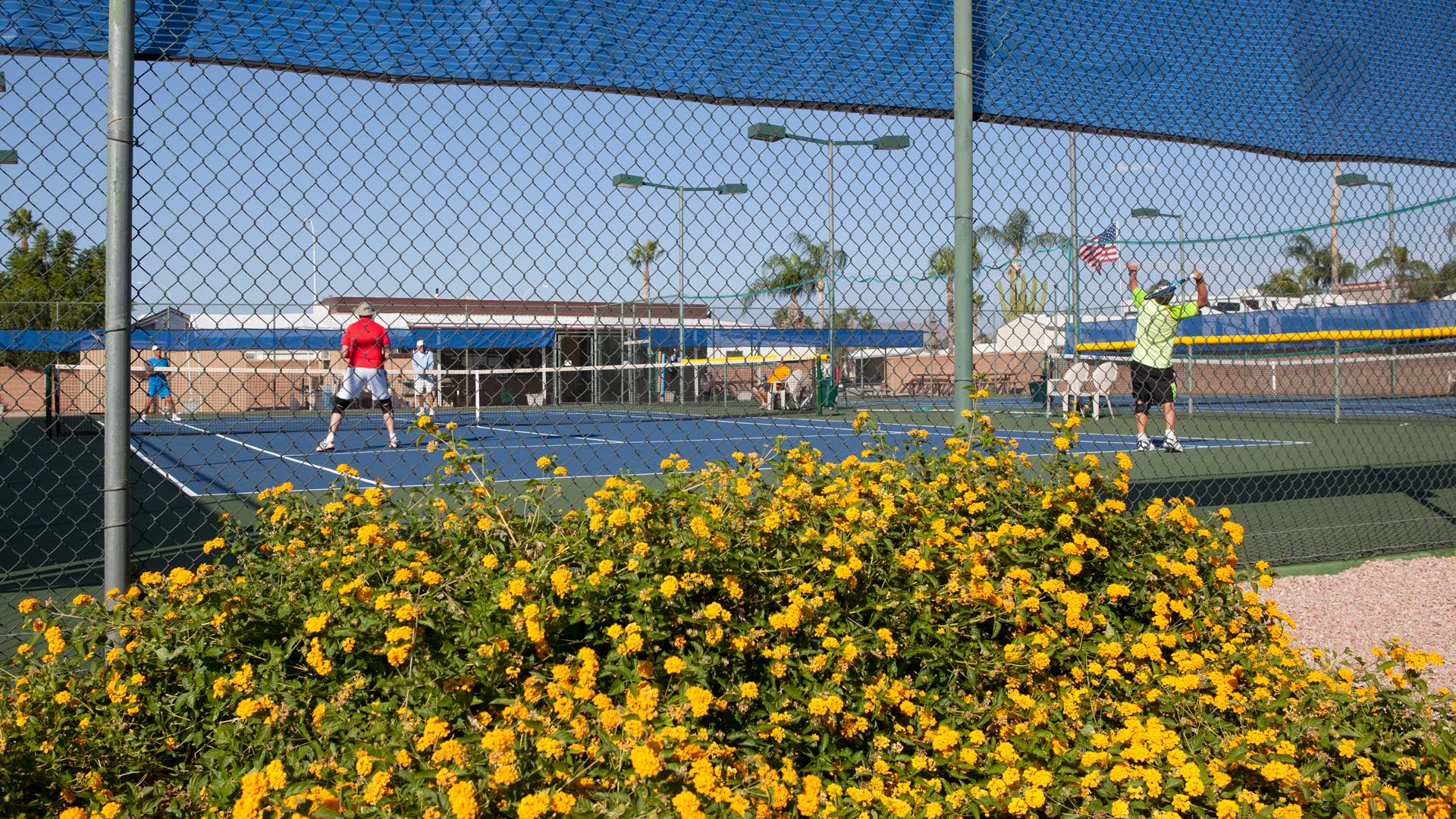 As for "big heart," that's our residents describing the friendships and upbeat spirit of the place. In a recent survey, about nine out of ten residents said they would recommend The Resort to friends and relatives, and a similar proportion rated the staff as "warm and friendly."
The Resort isn't owned or run by some anonymous corporation in Manhattan or Shanghai; members of the management team all live in the park or in the surrounding metro Phoenix area.
We think The Resort is so special that we welcome comparisons to other parks…
Price Value Comparisons
What you'll see is that The Resort is not the cheapest park in town, but it compares favorably to neighboring parks. And that's true even though the density of The Resort is far lower than other nearby parks.
When you visit The Resort you'll quickly notice the wide streets and how the place is not crowded with homes squished in together. The Resort has fewer than 10 lots per acre, which is half the rate of some neighboring parks.
FREE INTERNET AND HD CABLE TV INCLUDED IN RENT!
1101 S Ellsworth Rd, Mesa, AZ 85208
(480) 986-8404 | 1-866-386-1101
SOCIAL EVENTS
If you're not worn out from all the clubs and amenities, you can choose from onsite social events and the resort nightlife.
Holiday events, like the Mardi Gras Parade, and the Christmas parade of decorated golf carts.
The ever-popular weekly "Bash" every Friday in the season, with special entertainment and meals, musical groups and dances – residents look forward to seeing favorite bands return each year (like the Southwest Surfers and their Salute to the Beach Boys or the Blues Brothers tribute) and to discovering new ones.
During the season we have a full-time Activities Director, and she and her staff work to keep everyone smiling.
Take all of that together and it's no wonder The Resort's residents call it
"The small park with the big heart."