The next time you visit the offices of The Resort, you might want to find some shade and sit for a spell… that's easier now thanks to our Canadian residents, who presented the park with new benches and table, in honor of Canada Day 2018.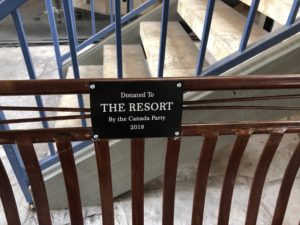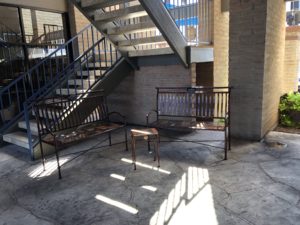 The leadership team asked The Resorter to pass along this message:
The owners and staff of The Resort want to thank all of our Canadian residents for this beautiful donation to the park.
EVENTS
Activities Director Mickey Webb has two events for us in May — Cinco de Mayo luncheon (free) and a special musical performance coming May 28th. (Sign up by May 11th) Details Below.
---
The latest in our series..
THE PEOPLE OF THE PARK:
Pat Mizer
"I Wake Up Every Day With a Smile On My Face"
By Dale Dauten
The second thing you notice about Pat Mizer is how small she is. That's second, because you'll already have noticed her sunny personality, especially that smile. As for the latter, she's had a lot of practice, saying brightly: "I make sure that I wake up every day with a smile on my face."
As for being small, let's just say that if you're doing a human pyramid, she'd be chosen for the top spot every time. She's quick to joke about it, saying, "I'm four foot six, but only if I do a lot of backcombing." And she brought out an old photo where she posed beside The Resort's tallest resident. Notice the inscription, "We have everything at The Resort!"
Always one to look on the bright side, Pat is quick to point out that being short has its advantages: "If I go into a store and need something from an upper shelf, I just wait for a handsome young man to pass by. And I always thank them by saying, 'It's so nice to meet a gentleman.'" She adds, "People are so nice. Fundamentally nice."
Pat and her late husband, Jim, started coming to Arizona back in the eighties, inspired by friends in their home state of Washington. They tried both Yuma and the Valley and eventually chose a park in Mesa. Then, in 1991, they joined a group who migrated over to The Resort. Pat and Jim soon started the Resort Keggers, a bowling league that at its peak had 16 teams and numbered nearly a hundred bowlers
As much as she enjoyed bowling, she loved the swimming pool and soon was teaching water aerobics. "I had a class starting at seven in the morning," she recalled, "and we had so many people that I split it – I would teach a class at six and one at seven. I was a prune!" And, reflecting back, she laughed and added, "How in the world did I get up for those?"
All those water aerobics classes explain the cake presented to her for her 90th birthday party. (That party drew a crowd of 150, including Pat's children, who flew in from Seattle.)
And, at age 91, she and her great grandson went swimming with the sharks at a state park near Tacoma. (That's Pat behind the protective bars.)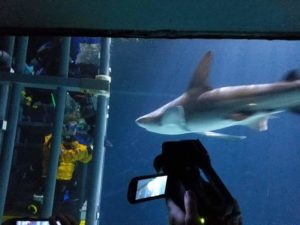 Now, though, at 93, Pat has passed on her role as water aerobics instructor to one of her former students, and she's packed up her place at The Resort and headed back to Washington. She hopes to visit, but has decided it's time to give up her second home here. At the Volunteer event in March, she was celebrated as one of the all-time favorites of Resort residents.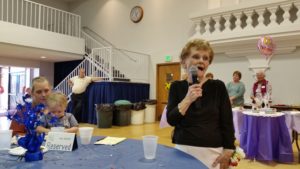 She says of The Resort, "I have so many wonderful memories. I'll miss it like heck." And we know there are many residents who will read that and think, "Right back at you, Pat. We miss you already."
It helps to know that Pat is spending her time at one of the country's most beautiful spots, what's classified as a "private camping club" north of Seattle. She's been a "temporary resident" for 45 years. Well, I suppose we're all temporary residents, aren't we?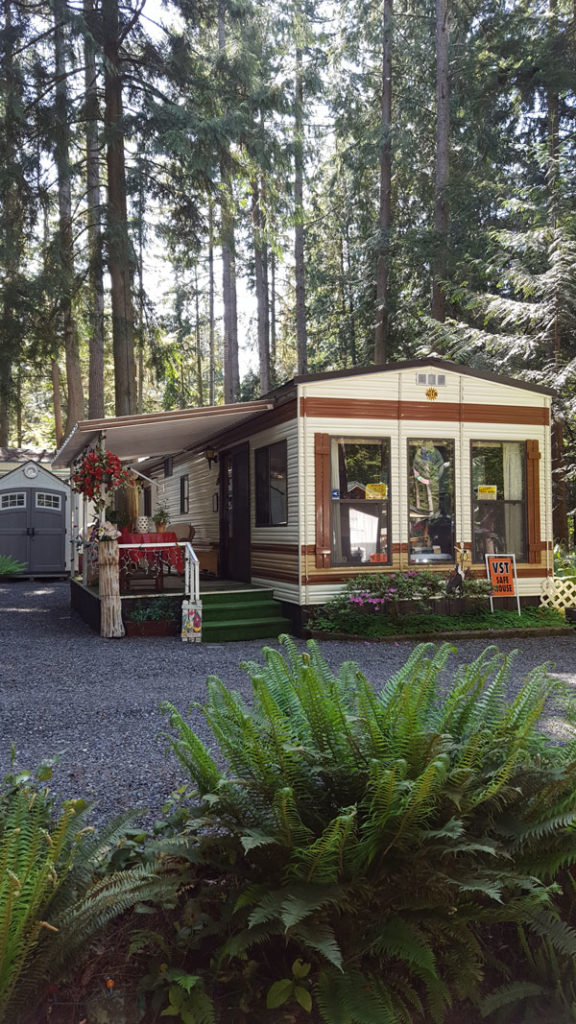 CAPTION: Pat's place in Washington