Today we get to meet the man who has gone from being a police artist to being the person I'm declaring The Official Artist of RV Park Life.
He doesn't look like an artist, I thought to myself as we shook hands, but then again — what does an artist look like?
At six-two and two-fifty, with a shaved head and goatee, Jerry Maryniuk looks like a biker or maybe a former linebacker. Then you start talking to him and hear his ready laugh and self-deprecating humor, and realize that he's easy to get to know. And the first things I wanted to know about him were his memories of his police work and to see his cartoons about life in an RV park.
Jerry, Then & Now
THE POLICE ARTIST DAYS
Jerry spent 26 years with the Winnipeg police force. He didn't start as a "forensic artist" (as the job is known in the profession), but worked a number of assignments, including drug enforcement. Along the way his artistic gifts were spotted and the Winnipeg police department sent him to the Scottsdale Artists School for training – his first visit to Arizona. From there, he earned an invitation for further training at the FBI Academy in Quantico.
He had a gift for drawing, but that's merely a job prerequisite. What made Jerry uniquely qualified was what his mentor called his "gift of gab." Jerry explained: "Not everyone has that, and I was able to get witnesses to be comfortable. If you can get people to relax and open up, then the memory also opens up."
LIFE IN THE PARK: LET'S HOPE NOBODY GETS ARRESTED
After retiring from police work in his late forties, Jerry became a hunting and fishing guide and eventually he and his wife, Sharon, opened an outfitter service, doing artwork as a hobby. Then his life came apart and he gave up his art.
Only when he came to Arizona for an extended vacation did his creative juices begin to flow again. Before long, his creative energy turned to doing a series of scenes from life in an RV park, expressed as cartoons.
Here is one of my favorites, his depiction of the Wise Men of the RV Park, meeting for coffee and reminiscing.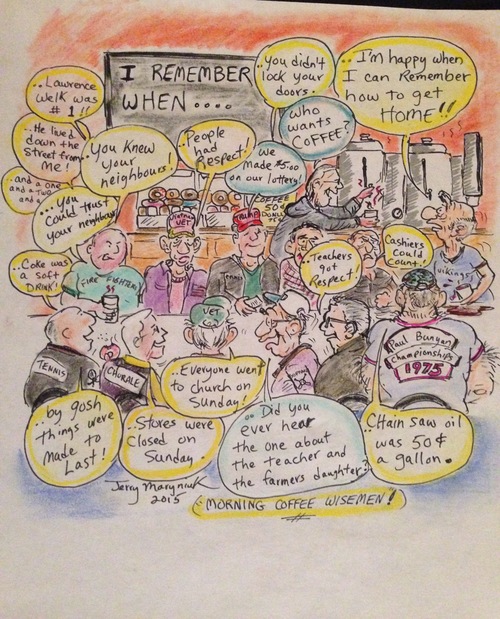 Why did Jerry walk away from art for five years? And what about life in a Mesa RV park brought him back to his gift?
THE DARK DAYS
It took a tragedy to take Jerry from his art. His son Steve, a vibrant, much-admired kid in his twenties, collapsed, and that's when they found a tennis-ball sized tumor in his brain. Inoperable and untreatable, they said. So his dad "closed the book on the art" and devoted that energy to an obsessive search to find that elusive miracle cure. There wasn't one. Four and a half years after being diagnosed, Steve died December 3rd of 2013.
Father and son had a long conversation just two months before the end and Jerry asked a question no father should have to ask: What did his son want his legacy to be?
Steve said he wanted to be remembered for his passion and zest for life. Even as his cancer progressed, Steve used to say to his family and friends, "I'm going to be dead soon and I'm still enjoying life. What about you?"
That's when Jerry committed himself to the philosophy that reflected his son's enthusiasm: NEVER WASTE A DAY.
Jerry also wanted to find a charity to support and found himself searching for something like Make-A-Wish, but not just for kids. He found it in AngelsAnonymous.org and organized a fundraiser in honor of his son.
FINDING HIS PLACE IN THE SUN
It was during the dark days after Steve's death that friends invited Jerry and his wife Sharon to come stay with them in Mesa, Arizona. Jerry says, "That first time was just two months after we buried our son. Sharon and I could not have been more depressed. Life can be cruel and unfair, but we're not supposed to bury our kids."
That trip to Arizona was the beginning of the healing. They stayed with their friends at The Resort RV Park for 17 days. Jerry knew that his son wouldn't want his father to stay depressed, but to regain his energy and zest for life, the kind that his son had always demonstrated.
Jerry and his wife needed something to look forward to and so decided that they'd come back the next year and rent a place for a couple of months. When no rentals were available, they bought a place.
It was in the Arizona sun on that next visit that Jerry found the urge to pick up a paintbrush and told himself, "If you have a God-given talent, you shouldn't squander it." And because The Resort had a Ceramics room, he started creating trolls. Trolls? It is, he says, "a Scandinavian thing. I'm half Scandinavian and my wife is full. Growing up in Canada they were a part of the culture. If something goes wrong, you blame the trolls."
He has donated a number of his pieces to charity sales/auctions, often with the proceeds going to his go-to charity, Angels Anonymous.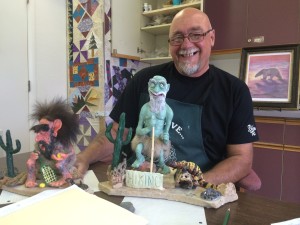 Jerry is now well into his latest project, creating a book of cartoons about life in the RV park. Not surprisingly, he plans to use part of the proceeds to
support his favorite charity.
Here's a sneak peek.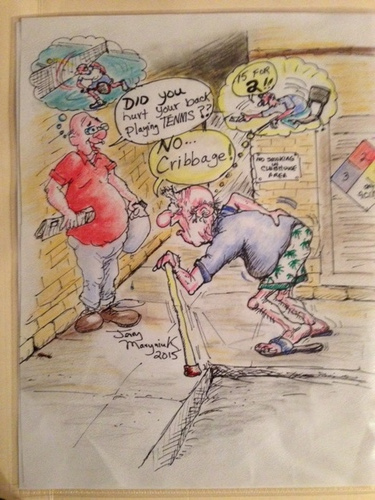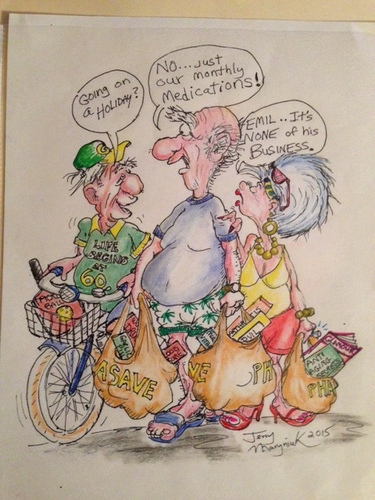 We'll keep you posted on when the book is available and we hope Jerry will share more of his cartoons with along the way.
As for his reflections on the life in an RV park that he likes to depict in his art, he quotes his wife, Sharon, as telling him, "You've never been this creative." He laughed and replied, "It's this place. It's so upbeat and positive it's like a health spa."
Said another way, RV park life has made it easier for him to live up to the motto his son inspired:
"Never waste a day."