Even if you don't know them by name, if you've ever seen Mary Ruppert and her husband Merle together, you wouldn't be likely to forget them. That's because
Mary is a little over 5'1″ and still at her circus performer weight of under 120 pounds. Then there's Merle, who stands 6'8″ and weighs more than twice as
much, not to mention that beard of his.Mary recalls that they once entered a "Mutt & Jeff" contest and while the two of them had the greatest height differential, they came in second place.
The winner? A 5'11" wife with a 5'2″ husband.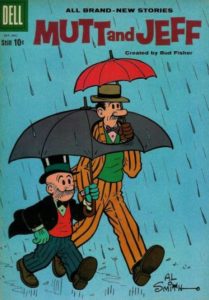 THE VEGAS YEARS
Mary Ruppert grew up in Las Vegas. She sang and danced throughout her school days, and traveled with the U.S. Honor Band and Choir. Then, as she recounted,

"The day I turned 18, I auditioned for every show in Vegas. And guess what I heard? Too short. Too short. Too short.They were looking for the standard
showgirl type – you know, tall.

One of the directors told me, 'Go see Andre Prince at Circus Circus. They were looking for girls who were under 120 pounds and under 5'4″."
No problem for Mary Ruppert. She got the job and before long she was doing four shows a night, six nights a week. She kept up that schedule for five years.

She worked at Circus Circus as an aerialist on the "Cowboy Carousel." She would come on stage, dance, then mount a pony (like they use in merry go
rounds), whereupon a system employing air pressure would lift her and her pony 40 feet above the stage. Then she'd be carried on a monorail around the
top of the arena. No net.

While being propelled through the air, she'd do tricks and then grab a bunch of balloons which she'd drop to the merry crowd below.
Given that she's still with us, I assumed she hadn't slipped off the pony and dropped four stories to the stage. She waved away the question and assured me
that she'd never felt in danger. (I don't know about you, but four stories up on a plaster horse I'd be clinging to the neck of the thing and calling to be
set down.)
Despite the killer schedule of four shows a night/ six nights a week, Mary would use her days off to work in lounges, performing with both a Johnny Cash
and Dean Martin impersonator. She also sang at political conventions — one Republican and one Democrat.
MEETING MERLE
But her performing days were not just in Vegas, but in the era of "drugs, sex and rock & roll," and the entertainer lifestyle began to take its toll.
After a bad breakup with an ex-drummer in a rock band, she "dropped everything and ran to Denver."
It was in Colorado that she met Merle in a bar and there was an instant connection, despite that height differential. Hearing he had a Harley in the
parking lot helped. "I've always loved to ride," Mary says. They married and now when she goes to Vegas it's to visit her mother.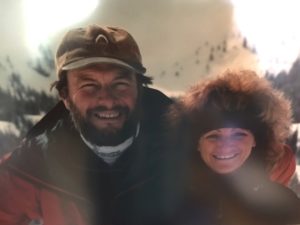 Mary & Merle on a ski trip to Utah
Does she miss those days? She laughed and replied, "I taught dance for 38 years. Every class was a performance."
Meanwhile, Merle worked for the railroads (BNSF). Over the course of a long career, he worked his way up from brakeman to engineer to trainmaster to
terminal manager.
THE RESORT
And that brings us to The Resort connection. Merle's folks were among the first residents in the park, back in the early '80s, coming with their
fifth-wheel. Then, in the '90s they bought a park model. They lived at The Resort till they passed on, eight months apart, at age 90. They left their place
to Merle.
Mary and Merle gladly made use of their new home but only started spending most of the year at The Resort when Mary ran into health problems and ended up
with congestive heart failure. It knocked her heart's efficiency to 10% and she had a pacemaker/defibrillator implanted. She came to The Resort to recover.
It worked. She credits her walking and her frequent yoga, tai chi and other classes with helping, and her heart liked it – she's up to 45% and climbing.
(You'd never know she's been recovering from a health crisis – she vibrates with energy and with laughter.) She says, "I feel better now than any time
since I was in my thirties."
As for The Resort, she concludes,
"I will not go anywhere else. I love this place. I've talked three girlfriends into moving here. 
"I fell into a blessed life."